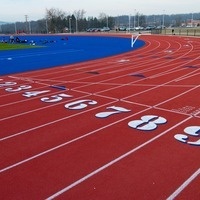 Alumni Track & Field Celebration at MAC Championships
All alumni are invited to cheer on the men's and women's track teams as they compete in the MAC Championship on Saturday, May 6 being held at DeSales University for the first time! There will be an alumni hospitality tent during the meet where you and your family can come in grab a snack and a drink, and relax in the shade.

After the meet all alumni and their families are invited to join us for a cocktail reception at the Cooperhead from 5-6:30PM. The cost for the reception is $15 per person and children 15 and under are free. Please RSVP by Friday, April 28 for the reception in Copperhead.
Saturday, May 6 at 12:00pm to 6:30pm
Billera Hall, Track & Field
2755 Station Ave. Center Valley, PA 18034
Event Type
Cost

$15 per person, and children 15 and under are free

Group

Contact Name

Nikki (Ferraro) Gingrich '06 M'12

Contact Info

nicole.gingrich@desales.edu, 610-282-1100 ext. 2124

Subscribe