Events Calendar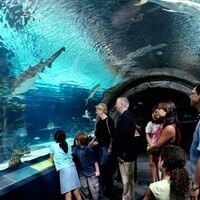 City or Sea- Trip to Philadelphia or the Camden Aquarium YOU CHOOSE
Spend the day exploring Philadelphia independently or stay on the bus for the next stop to the Adventure Aquarium. The bus will leave Dorothy Day at 10 am. Cost for a self guided tour of Philadelphia is $5. Cost for the Aquarium, including bus, will be $10. Decision to attend the Adventure Aquarium must be made at the time of signing up. Tickets are purchased in advanced.
CLICK HERE TO SIGN UP
TRIP IS OPEN TO ALL FULL TIME TRADITIONAL UNDERGRADUATE STUDENTS.
MONEY MUST BE RECEIVED WITHIN 48 HOURS OF SIGNING UP TO THE CAB OFFICE- DD104
REFUNDS WILL BE GIVEN IF THE CAB OFFICE IS GIVEN AT LEAST 48 HOURS NOTICE.
YOU MAY ONLY SIGN YOURSELF UP!
Saturday, November 10, 2018 at 10:00am to 5:30pm
You Choose!
Event Type

Departments

Website
Group

Subscribe